The 2016 Fray in Ferndale! Part 1

My ride to the Fray in Ferndale.
Once you clear out of city traffic, run up Interstate 5 and take the Williams exit for Highway CA20, west. Chances are if you are travelling mid-week, you will not see much traffic. As you drive by Clear Lake, you will transition onto US-101 North at Ukiah and enter the Redwood Highway through the Redwood Forest. The scenery is beautiful.
Upon nearing the coast and the tiny town of Ferndale, California you take Exit 691 and follow the somewhat hidden signs to the fairgrounds.
Once at the Fairgrounds, look for the building with "The Fray" on the front in bright yellow. You will be greeted heartily by everyone upon walking inside. Everyone is very friendly as you will soon discover. But don't let that friendliness fool you, they are all very strong competitors and put it all out on the race track as soon as that power hits the rails.
Ten 6-lane tables await; each offering something very different. Some are made for handling while others are setup for speed. The tables are known simply by their table colors. The Black Track is a speed demon while Purple Track tests your ability to brake in time for the descent off the bridge section. The shortest tracks offer about 5 second lap times while the Blue Track is the longest at around 9 seconds. The fast tracks see time in the upper 6-second regions. The newest track is a pink table. For a view of the other 9 tables, be sure to click the link for the 2015 Fray.
The individual qualifying and racing is on Friday. Here are my pictures from that day's activities: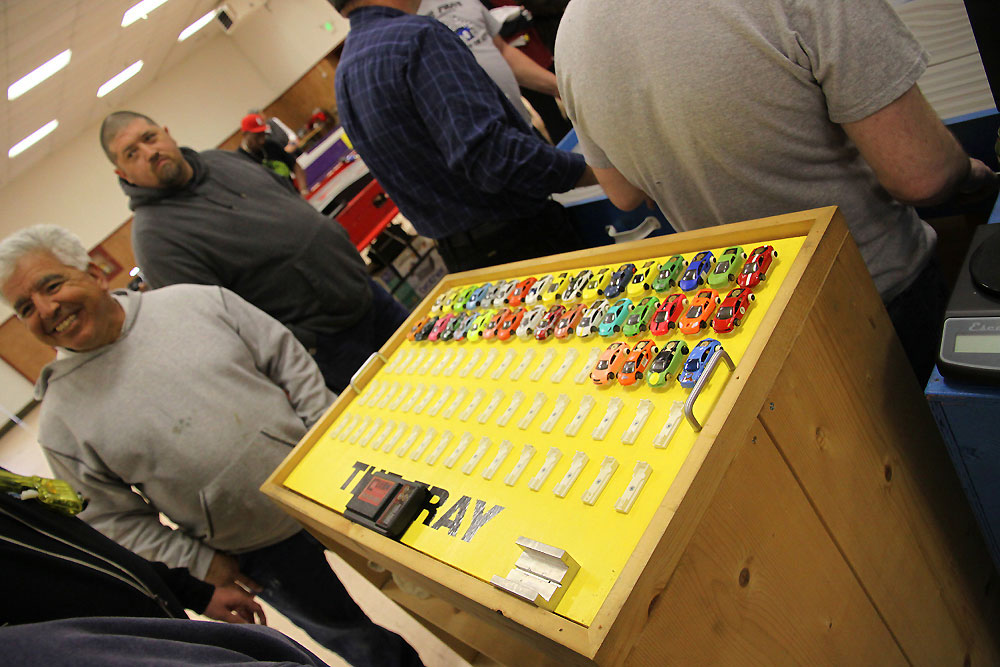 Ferndale, California: